Brisa cleansing gel for sensitive skin
Cleanses and purifies the skin, leaving it fresh and balanced

Your skin can't tell you what it thinks of your cleansing regime, but if it could, it'd say: "PLEASE can we do something about that uncomfortable, tight feeling I get afterwards?" The 'Brisa' cleansing gel is like a gentle embrace, hydrating instantly and leaving your skin feeling squeaky clean and comfortable. 
It's got a super-light gel texture that transforms into a creamy foam, cleansing your skin deeply and sweeping away the impurities and dead cells that have built up over the course of the day.
You'll be very tempted to touch your face to enjoy that super soft, clean feeling. Just make sure you wash your hands first, or you'll have to start from scratch!
Quantity: 200ml
---
Brisa cleansing gel for sensitive skin
We love it because it's super kind to sensitive skin, and also...
🧼 Because it transforms into a soft, creamy foam your skin will love
☺️ Gets rid of impurities, pollution and dead skin cells
💖 You can use it in its own right, or as the second step in your double-cleansing routine
🌿 Its upcycled ingredients from the Mediterranean hydrate your skin and leave it feeling soft, supple and renewed
💧 It cleanses your skin without drying it out or stripping it back
🥰 And its scent is oh-so-fresh!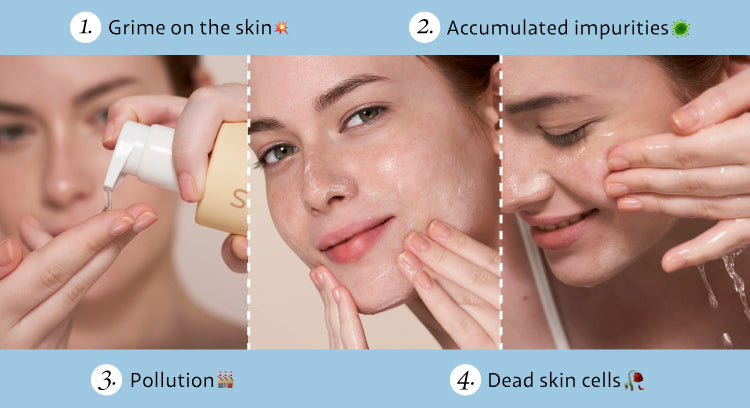 Zero-irritation cleansing: the magic of mild surfactants
Non-ionic surfactants are like tiny particles that manage to break down dirt and remove impurities, but in a kind and respectful way, without impacting the skin barrier. They're gentle and won't leave you with that uncomfortable, tight feeling.


That's how Brisa is made. With very specific surfactants that create a creamy, non-irritant foam. That's how we guarantee that comfortable feeling we love so much, that even the driest and most sensitive skin types respond well to.
Our commitment to beauty with a conscience: upcycling
At Saigu, sustainability is one of our top priorities, and the most innovative concept in the world of sustainability is upcycling. This term combines the words "upgrade" and "recycling". It's a levelled-up version of recycling. Instead of destroying a waste product to create something new, we look for creative ways of making use of it. For example, something that might be seen as waste in the farming and food industries can be put to use by the cosmetics industry, making the most of its magnificent qualities. Because although we might not be able to eat them, they're the answer to our skin's prayers.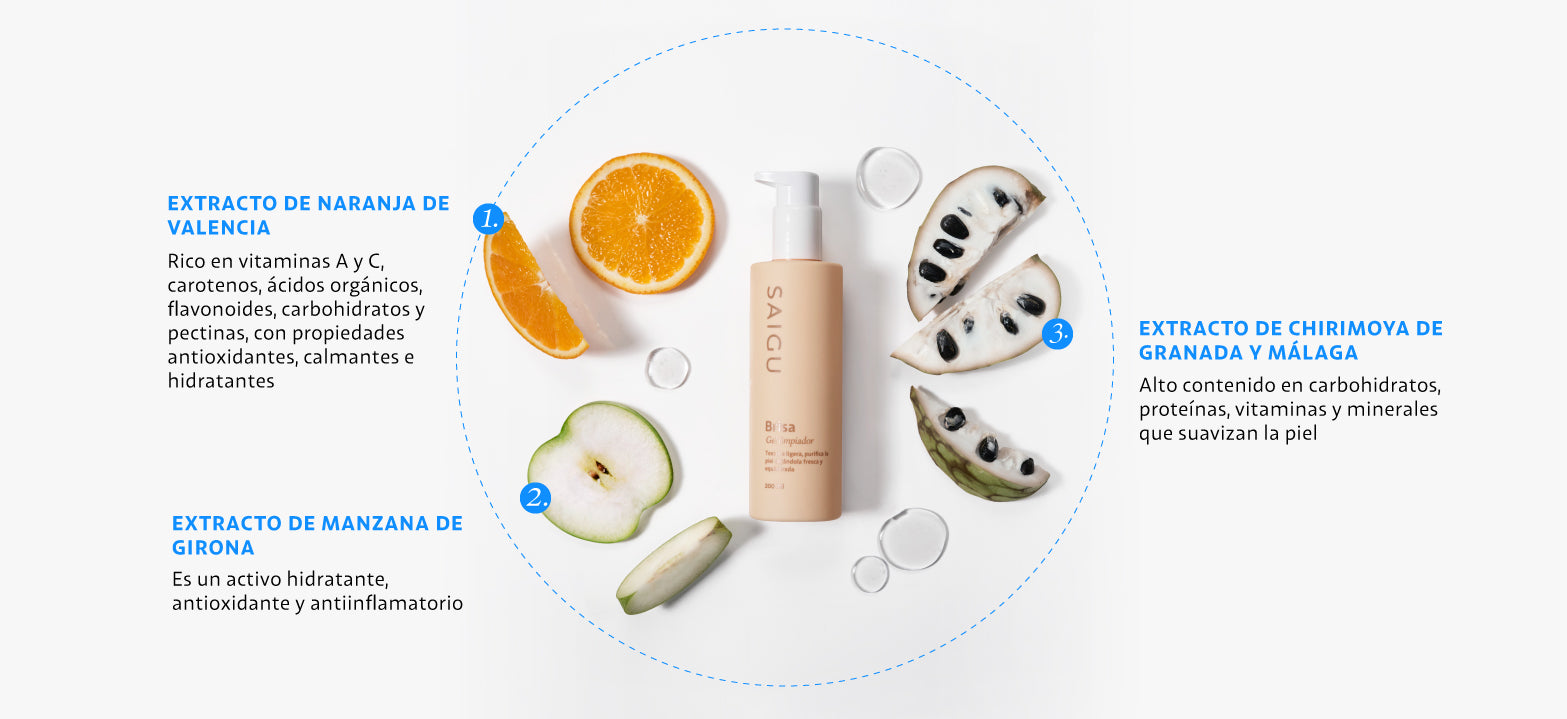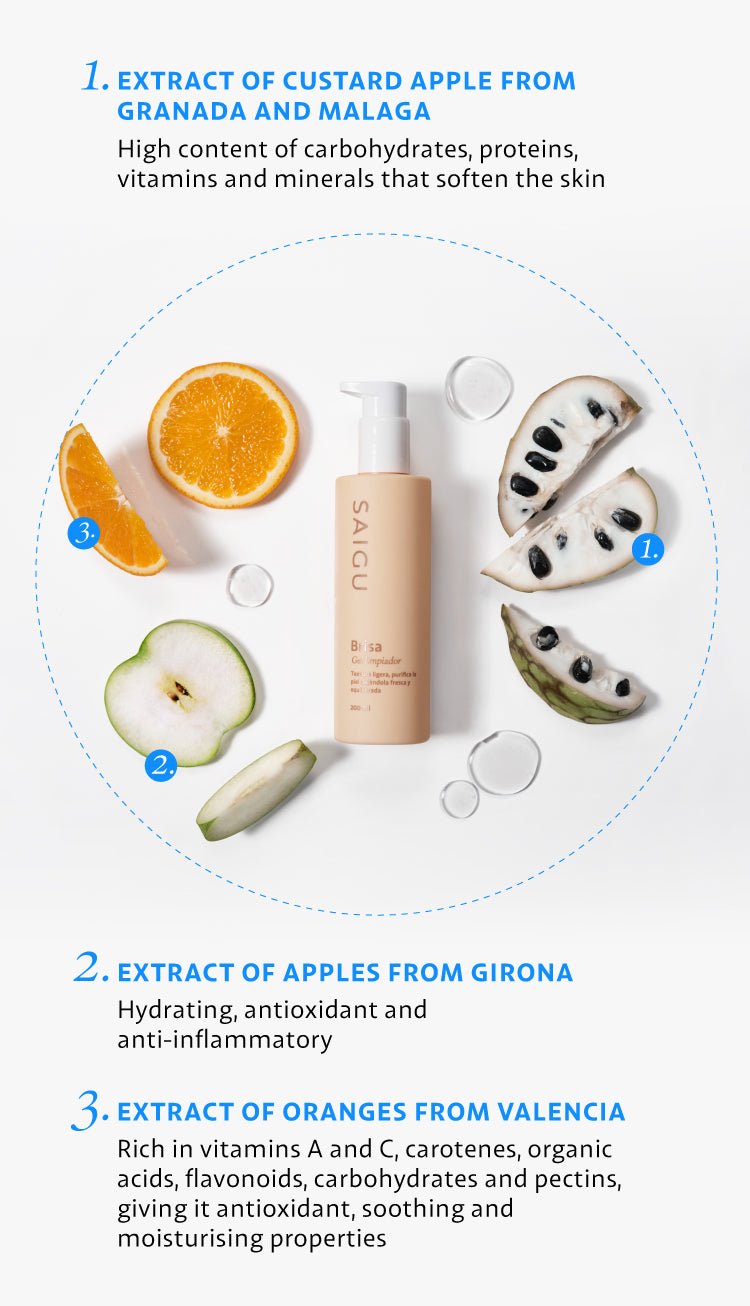 Extract of apples from Girona
A hydrating, antioxidant, anti-inflammatory ingredient obtained from the by-products of apple processing in the food industry. The waste is put to excellent use in cooperation with a local apple grower.
Extract of custard apple from Granada and Malaga
Thanks to its high content of carbohydrates, proteins, vitamins and minerals, this is perfect for softening dry, dull and ageing skin.
Extract of oranges from Valencia
Rich in vitamins A and C, carotenes, organic acids, flavonoids, carbohydrates and pectins, providing antioxidant, soothing and moisturising properties. Perfect for atonic, ageing, sensitive, irritated skin, with problems with redness or broken capillaries (rosacea, caparrosa, telangiectasias).